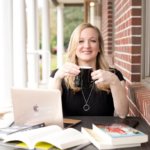 Lauren Lapointe helps coaches get fully booked through smart strategy, intuitive marketing, and soul alignment so you can have the wildly successful online business of your dreams.
She took the leap several years ago to leave the corporate world and her cushy corner office behind to work for herself and hasn't looked back. She believes that life is too short not to do what you love and she's on a mission to help coaches share their gifts with the world in a bigger way.
Although she grew up in Canada, she now lives in Florida with her husband and an undisclosed number of cats (and guitars.)
Good Note : From a Monday Morning Epiphany to a full circle success in music
Bad Note : Listen to your soul alignment.
Get Fans : Figure out who you are so you can hone in on who you want to attract
Tools for Success : Evergreen Webinars
Learning From The Best : Good coaches and mentors can help you stay connected to your why